I have used Sand Timers in the past to help Control regulate the length of phases within a megagame. I am now thinking about how I could use them as both a timer and an action token within the game that is used by the players.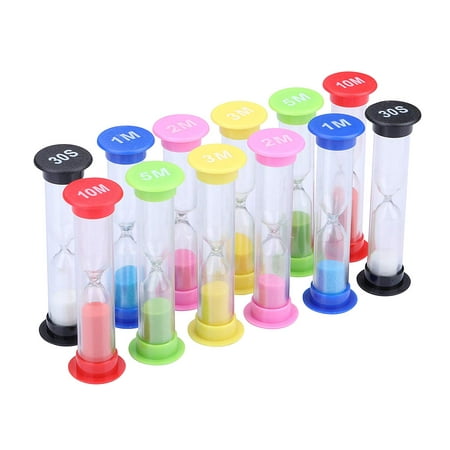 Sand timers could be:
Placed to indicate choice of action, with the sands giving you time to resolve the action
Placed to indicate the location of the action, with the sands either being the time to resolve the action, or the time limit for other players to react to your action, after which the action is resolved
Placed on top of a unit, allowing it to move or attack until the sands run out.
Some potential problems:
Sand timers are often inaccurate
If there are lots of Sand timers on the tables, players may struggle to perceive what is going on (which could be a feature, not a bug), and Control may struggle to resolve timers finishing at roughly the same time
What happens if the Sand timer is knocked over?
Potential for downtime, where a player is just watching grains of sand tricking down
Control cannot interrupt Sand Timers, the sand will just keep obeying gravity.
The potential upside is that the use of Sand Timers could lead to some interesting real time actions, and present a lightweight way of abstracting handling factors like logistics, technology, and strategic acumen.
Now I am going to try and sketch out how I could use this in a megagame, thinking about Colossus of Atlantis. First, they will be used in the military map game. This subgame has three large regional maps (Asia, Europa, and Libya). Each regional map has a number of land, sea, and colony areas, which the factions are competing to control. The faction tokens on the map indicate area control, or are the dice that represent military units and their relative combat effectiveness.
Second, lets give each team three Strategoi (generals/admirals) and four sand timers (one of 30 seconds, two of one minute, and one of two minutes duration). The number of generals and the number of sand timers could be determined by other game mechanics (e.g. to have three generals you might need to hire mercenaries or persuade another team to loan you one of their generals for the turn, while the number and duration of sand timers might be influenced by research and resource bids). In team time the team gets to discuss which sand timers are allocated to which Strategos, and which table each Strategos is assigned too. So a team might say "We have a reward mission to take a colony in Libya, so we send Paul with the 30 second timer, and a one minute timer there, along with all of our reinforcement dice. In Asia all we have to do is defend our colony in the Black Sea and support our Amazon allies who want to attack Troy, so lets send Jane there with the two minute timer. Luigi gets the remaining one minute timer to go make trouble in Europe."
Third, the process to use the sand timers:
Place the timer in an area to indicate a logical action (e.g. invading to take control, helping an ally, relieve a besieged colony, etc).
Allocate unit dice to the action by rolling them.* The number scored is their effectiveness for the action. If you roll a 1, the unit is exhausted (removed from play for a while).
If no other player intervenes before the sand in your timer runs out, and you have at least one unit die in the area, your action succeeds. Place a control marker in the area and return the unit dice and sand timer to your hand. Control of the area is locked until the next major game phase is started.
If another player wants to respond to your action, they need to put a sand timer down and allocate one or more unit dice to oppose you. The action resolution is delayed until all sand timers in the area run out. Unit dice are stuck in the area until the outcome is determined.
* I suggest that a "roll and keep best two dice" will lead to a better game than "roll and keep all dice."
It is quite possible for the outcome of area control to be delayed a long time, if players are interested in the area and keep placing new sand timers and unit dice into the area, and completed sand timers return to player hands for use again. Players can see what the outcome is likely to be from the unit die rolls (barring say the use of a Divine Intervention card, or Control calling time on the phase and sending the armies home for Winter) and could use another sand timer to send reinforcements, or ask an ally to help out. A player might even use a second sand timer to evacuate threatened units before the outcome happens. This might not be the mechanic you want for an Operation Barbarossa game, but I think it fits with the back and forth and alliance diplomacy in Thucydides.
…and that is all I have time to write tonight.